Adhesive Film FALDA™

Epoxy Heat Cure Type Adhesive Film
Long-term High Heat Resistance Type

Through use of special thermoplastic resin with long-term heat resistance and a thermosetting resin polymer alloy technology principally consisting of epoxy, we have implemented unprecedented long-term heat resistance reliability of over 1,000 hours at 175°C.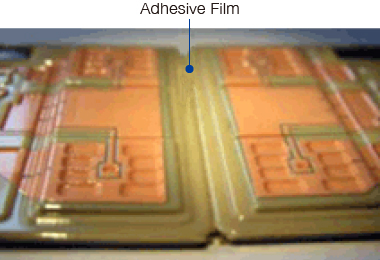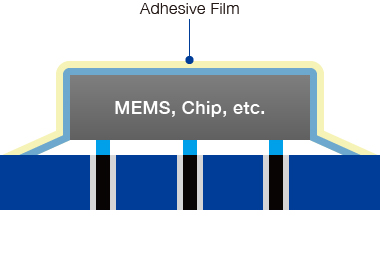 Features
Compared to standard epoxy resin, there is little deterioration at high temperatures of 150°C to 175°C.
With high stress mitigation, it follows the unevenness of chips well when laminating.
Superior flexibility mitigates the CTE mismatch generated when adhering disparate materials.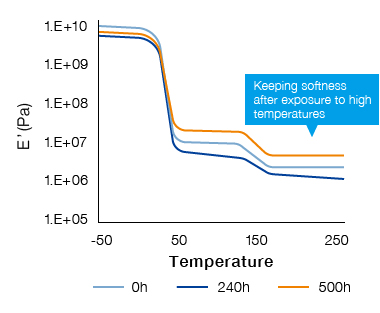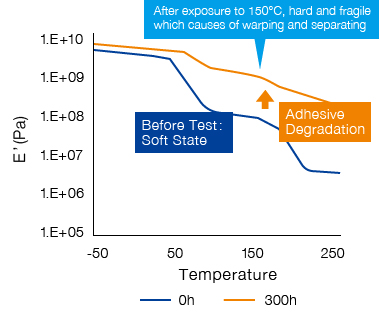 Representative Characteristics
Product No.
TSA-16
TSA-18
TSA-19
Notes
Features
High Adhesion


Displays high adhesion with a thin film of 20 µm

High Heat Resistance


Highest heat resistance in the heat-resistant series

Stress Mitigation


Suitable for bonding of materials with large linear expansion differences, and large materials

Adhesion after curing
N/cm
18
10
20
Sample:
PI film 75 µm/
"TSA"/Ni-Cu plate
5 mm width, 90° delamination
Reflow Resistance
°C
260
260
260
JEDEC LEVEL3
Glass Transition Temperature
°C
30, 130
20
-4
DMA Method
After thermosetting
Storage Modulus (MPa)
-70°C
6,000
3,200
2,600
150°C
5
1
1
Water Absorption Ratio
%
1.2
1.2
1.2
Weight increase after
85°C/85%RH/48hr
Heat-resistance test conditions
150°C 500 h
175°C 1,000 h
150°C 1,000 h
-
State after heat resistance test
-
No delamination
No delamination
No delamination
Sample:
Ceramic/
Adhesive/IC
Thermal
Cycling
after heat-resistance test
-40°C⇔125°C
1,000 cycles ≤
1,000 cycles ≤
1,000 cycles ≤
-40°C⇔150°C
500 cycles ≤
1,000 cycles ≤
1,000 cycles ≤
-40°C⇔175°C
-
1,000 cycles ≤
-
Recommended Curing Conditions
100°C 1 hr + 170°C 2 hr
-