Light-Shielding Material PHOTOBLACK™
PHOTOBLACK™ is a black coating material that has light-shielding properties and excellent high reliability through nano-dispersion of pigment. As a decorative ink for all cover glass, it is used in applications that require high levels of reliability, such as smartphones, laptops, automotive displays, and wearable devices.
Using our proprietary design pigment makes it possible to adjust reflected tones and transmit specific wavelengths. This enables a seamless connection between the display viewing area and frame, and makes it possible to conceal the IR sensor.
Also, by combination with inkjet or spray coating technologies, it is possible to decorate curved glass.
Features
In addition to our proprietary polymer technology and pigment design technology, fusion with nano dispersion technology provides high performance.
Proven performance in a wide range of applications, typically in smartphones tablets, and automobile monitors.
In addition to standard slit coating, various coating methods such as inkjet and spray are also supported.

Application Examples for Cover Glass Decoration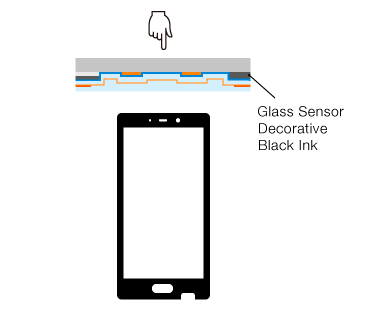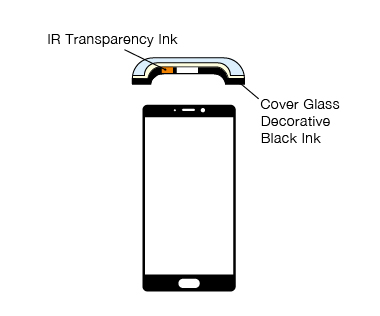 Applications/Usage
We can provide suggestions based on the customers' desired application/coating methods, so please contact us.
(Example)
Application: Glass sensor decoration, cover glass decoration, IR sensor/camera concealing decoration
Coating Method: Spin coater, slit die, inkjet, spray, dispenser
Technology Information
 
Grade
Pigment
Film Thickness
Visible Light
Transmittance
Surface Resistance
Chemical Resistance
Application
Touch Panel
Decorative Black Ink
High Insulation/High Chemical Resistance
Type
Carbon Black
+ Titanium Black
1.5 to 2 µm
0.01%
>1015Ω/□
Good
Cover Glass Frame Decoration for Touch Panels
 
Grade
Pigment
Film Thickness
Visible Light
Transmittance
Reflected Hue
Light-resistant
Application
Cover Glass
Decorative Black Ink
Standard Type
Carbon Black
2 to 4 µm
0.01%
Neutral Black
Good
Cover glass frame decoration (2D/3D)
Cover glass decoration for automobiles
Tone Black
Carbon Black
+ Tone Pigment
2 to 4 µm
0.01%
Blue Reflection
Good
 
Grade
Pigment
Film Thickness
Visible Light
Transmittance
IR
Transmittance
Reflected Hue
Application
IR Sensor
Concealment Black Ink
Standard Type
Specialty Pigment
4 µm
0.01%
85%
Neutral Black
All IR sensor concealment
High Transmittance Resistance Type
Specialty Pigment
+ Nano Dispersion Technology
8 µm
0.01%
94%
Neutral Black
IR camera concealment