Plastic Optical Fiber RAYTELA™
Toray's RAYTELA™ is a multi-mode, step-index type of plastic optical fiber.
Making full use of the lightweight and flexible characteristics of plastic optical fiber, it is widely used in decoration/lighting applications, medical applications, In-vehicle lighting applications, various sensor applications, and communications applications.
Applications/Usage
Decoration/lighting applications
Plastic optical fiber is ideal for underwater lighting such as water fountains and swimming pools, and for display cooling lighting because there is no risk of leakage of electricity or heat generation. They are also easy to maintain and are widely used for lighting in high locations such as building walls and signs.
In addition, newly developed side light fiber is optimized to give off light from the side surface, so is ideal for light textiles.
Photo provided by Saiden Inc.
Photo provided by PRODUCTS KEI CO,.LTD
In-vehicle lighting applications
In addition to ambient lighting by end-lighting and side-lighting, RAYTELA™ can be used in a wide range of automotive interior lighting, such as decorative lighting for door trim by woven plastic optical fibers.
Photo provided by DAIKI CO., LTD.
Industrial applications
Since optical communication is not affected by electromagnetic noises , it is used in industrial networks. Plastic optical fibers are more flexible and hard to break than quartz-based optical fibers, and they are large in diameter and have superior light transmission properties, so they are also used in a variety of sensors and lighting applications.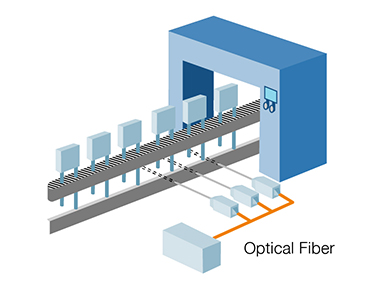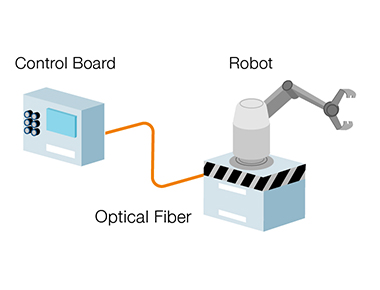 Medical Applications
Toray Plastic Optical Fiber RAYTELA™ has many achievements in medical equipment. In particular, it features a wider irradiation range, low bending loss, and superior rupture flexibility compared to standard plastic optical fibers, and it has been adopted for endoscopes and other medical equipment.