Plastic Optical Fiber RAYTELA™

All Applications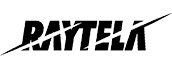 Decoration/Lighting applications
Optical fiber does not have carry the risk of short circuits or generating heat, so it is ideal for use in underwater lighting in fountains/pools and for cold lighting in displays. Also, maintenance is easy, so it is widely used for lighting in high locations such as building walls and signs.
In addition, side light fiber has been developed/optimized to give off light from the side surface, so is ideal for light textiles.
Applications/Usage
Signs/Billboards
Building lighting, fountain/pool lighting, art objects
Cold lighting in displays
Light textiles
Images provided by SAIDEN Corp.
Images provided PRODUCTS KEI CO., LTD
Automobile internal communication applications
With the higher-performance and computerization of automobiles, the installation of automotive networks is progressing. For example, AV devices, car navigation systems, etc. are connected to the computerized network. The amount of information handled inside the automobile is increasing by the year. Plastic optical fiber has a faster transmission speed than conventional metal wire, is not affected by electromagnetic noise, and is lightweight. This makes it the ideal communication medium for automotive networks.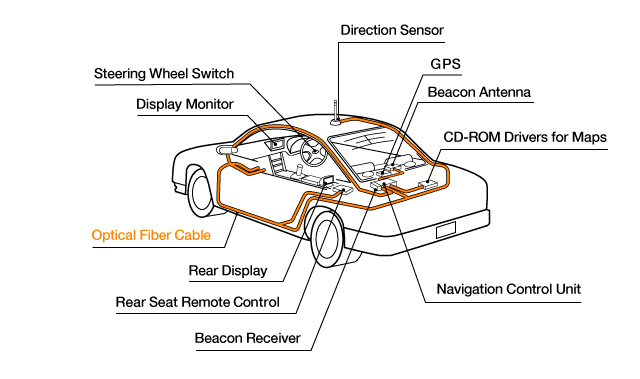 In-home communication applications
When information from outside the home shifts from public networks to the metal wiring inside the home, there may be a significant loss of stability. Compared to metal wiring, as a medium to secure data stability, plastic optical fiber has a faster transmission speed, is unaffected by noise, and has excellent handling/workability. There are high hopes for it having an important role in in-home communication.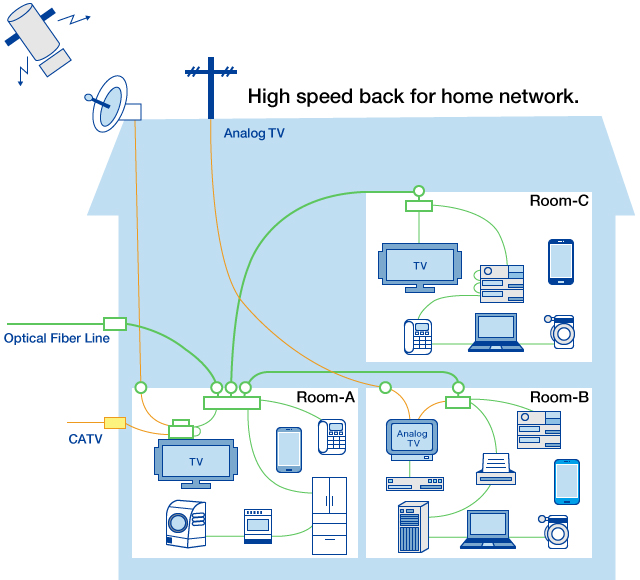 Medical Applications
Toray Plastic Optical Fiber RAYTELA™ has a significant proven performance in medical applications. In particular, as compared to conventional glass fiber and conventional plastic optical fiber, it features a wider beam range, lower bend loss, and excellent tensile flexibility, and it is used widely in endoscopic applications.
Also, side light fiber that has been developed/optimized to give off light from the side surface is easy to use for light textiles, and is ideal for use in infant jaundice treatment devices.
Applications/Usage