Adhesive Film FALDA™

Polyimide High Heat Resistance Temporary Adhesive Film (Development Product)

FALDA™ polyimide high heat resistance temporary adhesive film is an ultra-high heat-resistant polyimide adhesive tape.
Our lineup of products with varied features offers solutions to customers.
*TBDB (Temporary Bonding De-Bonding)
Features
An ultra-high heat-resistant polyimide tape using polyimide adhesive.
There is less adhesive transfer to the adherend when compared to silicone adhesives.
Supports room-temperature lamination and room temperature delamination.
A product lineup suitable for protection and transportation of electronic components.
Product Cross Section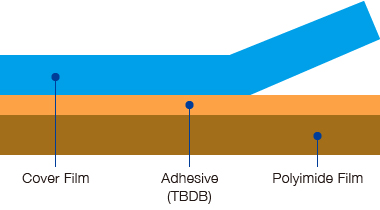 Applications/Usage
TBDB has cover film on one surface. Remove the cover film just before lamination.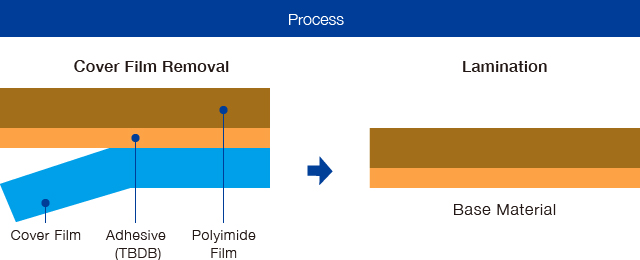 Technology Information
| Item | Product Specifications/Features |
| --- | --- |
| Film Thickness | 12.5 to 125 µm |
| Heat resistance (1% weight reduction) | 400°C or more |
| Lamination/Release | Can support room temperature |