Adhesive Film FALDA™

Polyimide Photodefinable Adhesive Film

FALDA™ polyimide photodefinable adhesive film is a negative-type photo resist material that has been developed taking advantage of Toray photodefinable polyimide technology and sheet processing technology. It can be used for permanent film applications. With excellent heat resistance, insulation properties, and processability, it is ideal for use as an interlayer insulation film and in hollow structure (cavity) formation applications. We are also developing models for applications requiring high modulus of elasticity and low linear coefficient of thermal expansion (low CTE), etc.
Features
Has negative-type photodefinable characteristics, and unexposed portions can be removed with alkali developing. Positive type is also in development.
As it is a sheet type, it is ideal for thick film processing and hollow structure formation that is not possible with liquid types.
Because it has high heat resistance, it is ideal for applications that need high reliability.
Has excellent fluidity when laminating, so it enables flat embedding or adherence to uneven boards.
Product width and film thickness can be adjusted to suit the application.
Applications/Usage
FALDA™ Polyimide Photodefinable Adhesive Sheet is a product with cover film on both surfaces. It can be adhered to the base material with a laminator or press machine, with the cover film from one side removed. After adhesion, pattern processing can be performed with standard photolitho processes such as exposure, bake, or developing. After processing, performing the high heat (200°C or more) thermosetting process produces excellent mechanical strength, allowing use as a permanent film.
Applications: Sensor related, MEMS material, multilayer wiring substrate, etc.
Processing Process
Negative-type Pattern Processing Example (Film Thickness 20 µm)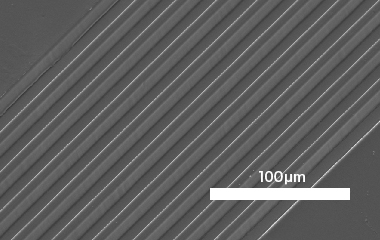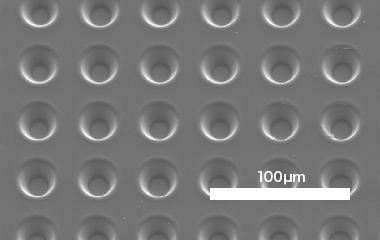 Example of Hollow Structure Formation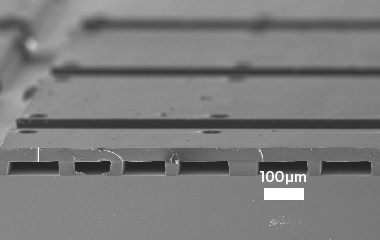 Positive-type Sheet, Via Processing Example (Film Thickness 13 µm)


Technology Information
Item
Negative-type (Mass Produced Product) Representative Characteristics
Positive-type (Development Product)
Mechanical Characteristics
Young's Modulus
3 GPa
3 GPa
Tensile Strength
100 MPa
120 MPa
Elongation
10%
10%
Film Stress
30 MPa
During measurement
Thermal Characteristics
Glass Transition Temperature
250°C
260°C
5% Weight Reduction Temperature
370°C
320°C
Coefficient of Linear Thermal Expansion
55 ppm/°C
55 ppm/°C
*This Toray product is a listed regulated substance according to Japanese export control laws.
Accordingly, when exporting this product, your company must abide by the Foreign Exchange and Foreign Trade Act regulations, and obtain an export license from the Minister of Economy, Trade and Industry. We will contact you regarding this process.
In addition, if your company wishes to provide Toray products to a Japanese domestic client, we ask that you notify that client of the content of this document along with making sure that they abide by the law.
Product Name: FALDA™ Polyimide Photodefinable Adhesive Film
Applicable Law: Item 1-5 (17) of the Export Trade Control Order/Ministerial Ordinance Article 4 Paragraph 14